Seed Grant Spotlight: Eamonn Bell and Katy Ilonka Gero
Seed grants are awarded to innovative interdisciplinary projects involving the study of science in society that require modest amounts of seed money to initiate collaborative research and programming. Proposals are welcome especially from undergraduate and graduate students.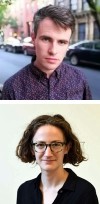 We'd like to introduce you to Eamonn Bell, graduate student in Music Theory, and Katy Ilonka Gero, graduate student in Computer Science who were awarded a 2018 seed grant to start a student reading group called Making Art in an Age of Algorithms: Critical Readings Across Disciplines. Given all the recent press coverage on the relationship between art and technology, this group is delving into timely and pressing issues at the intersection of science and society.
Read below for more information about how Eamonn and Katy met, what inspired them to start the reading group and what insights they're discovering about working in an interdisciplinary group.
How did you two connect to start this group?
I (Eamonn) sent Katy an email to introduce myself after an internet search for other Columbia students who share my interest in the use of computers to create art. I knew that the success of this group was going to depend on finding people who have thought critically about technology and art beyond one-sentence caricatures of the field such as dancing robots or AI songwriters. Katy's background in engineering and her interest in poetry as a writer has made her an inspirational collaborator.
We met for this first time in the Spring of 2018 and spent a couple of hours hashing out a plan for the group. The result was a plan for a semester worth of work on this topic, culminating in a public event. It helped that we knew that the Center for Science and Society (CSS) was interested in supporting new groups that allow researchers across disciplinary boundaries to get to know each other's work.
Why are you interested in the topic of art and algorithms?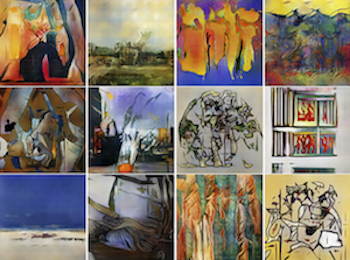 It is really interesting to think of computers being used to create art especially because the majority of time that we encounter computers, they are being put to some instrumental use: counting, monitoring, evaluating, and so forth. It is interesting to think that computational artists have managed to create compelling, challenging, and provocative pieces with a tool that was once designed to do just math.
The group's focus on algorithms (which have been around for longer than you might think) allows the group to discuss recent research as well as classic papers and artworks in the field of generative art (art created by a computer) including those that predate the digital computer. This generality allows us to discover the ways that the algorithmic arts have been integrated into an array of media.
Images generated by Creative Adversarial Networks (2017) in a reading for Meeting 2 of the reading group
How have people in the reading group benefited from the conversations?
Everyone really enjoys reading outside of their disciplines with the comfort of knowing that someone in the group is capable of contextualizing it. People are also clearly grappling with their own conceptions of technology and art. A comment that has come up a lot is, 'this makes me uncomfortable but I'm not sure why' and as a group we try to figure out where that discomfort comes from and where it can take us. We would consider our group to have been successful if participants and collaborators feel more empowered to ask hard questions about art or algorithms, wherever they might encounter either of these---even if (or especially!) when to do so pushes them outside their comfort zone. That way we can get better answers in the future.
What new insights have you gained from people in other disciplines that might influence how you think about your work/research going forward?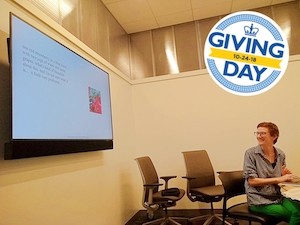 The group's membership comes from a relatively diverse set of academic and artistic backgrounds. Since the meetings have just started, we have yet to see precisely how this will pay off. In our discussions, it has become clear that we have to pay careful attention to how different disciplines understand the meaning of the same word. For example, an apparently innocuous word such as "creativity" can spark discussions between historians, who may be faced with an archive implying hundreds of meanings of that word, and machine learning researchers, who sometimes need an operational definition that can be used to measure the success or failure of an algorithmic solution.
Has the reading group fostered any new opportunities and/or collaborations?
There has been lots of interest in the reading group and we are excited to keep the interest going next semester. Our group has suggested mounting an interactive art-making experience for the symposium which we would all collaborate on in tandem with the attendees. We are also just beginning to learn that many Columbia initiatives share a common objective with many of our group members: in broad terms, to better understand the relationship between culture and technology and, in turn, ourselves.
---
Interested in supporting Katy, Eamonn, and our other fantastic seed grant awardees? Visit our donation page or feel free to contact us.