Event Spotlight: Electrifying New York City Transport: The Way Forward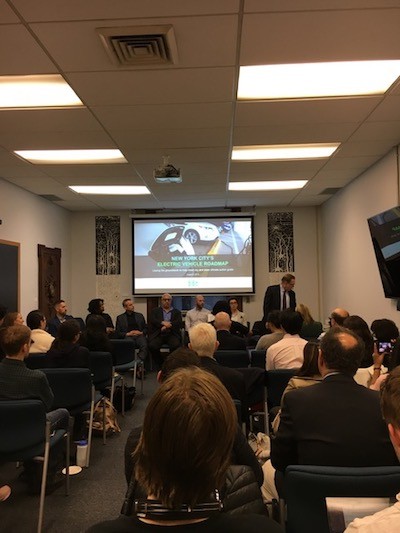 The Center for Sustainable Urban Development and the Sabin Center for Climate Change Law, at Columbia University's Earth Institute organized an event on October 3, 2019, Electrifying New York City Transport: The Way Forward to discuss the challenges and opportunities of electrification of the city's transport to reduce greenhouse gas emissions and pollution. Supported by the Center for Science and Society, this event brought together representatives from NYC government and nonprofits leading the efforts to implement NYC's electrification goals. A summary has been provided by co-organizer Dr. Jacqueline M. Klopp, co-director of the Center for Sustainable Urban Development and a research scholar who explores the intersection of sustainable transport, land use, accountability, air pollution, climate change, and data and technology.
Event Background:
Thanks to New York City's mass transit, bike lanes, and walkability, the state's per capita greenhouse gas (GHG) emissions are the lowest in the country. However, the city's emissions are growing -- they currently account for approximately 30% of New York's greenhouse gas emissions and are also a significant source of air pollution. This air pollution, often from freight trucks and bus depots, disproportionately impacts lower income communities. For this reason, the South Bronx suffers from some of the highest asthma rates in the country.  
New York being New York, it has big plans to reduce GHG emissions by 80% and attain carbon neutrality by 2050. To achieve this will be a challenge that will involve moving forward rapidly with more and improved transit, new forms of shared mobility, better mixed-use land-use and safer, walkable streets. Through these measures, the city aims to radically reduce individual car use and ownership that is at the core of so many problems including emissions.
Electrification drawing on clean energy to fuel our transit, school buses, freight and remaining shared and personal vehicles will also be key to reducing emissions. However, this has received less attention and presents its own particular challenges. New York City has set a target to achieve an electricity mix consisting 100% of clean energy sources and is developing a modern, fully electric grid, building a city-wide network of electric vehicle charging infrastructure, reducing the size and emissions of the city's fleet, and incentivizing adoption of low and zero emissions vehicles. 
Yet, in New York City and across the globe, significant barriers exist to electrification of transport, and New York City is currently lagging behind many other cities. Significantly, new forms of cooperation and coordination must be developed between the energy and transport sectors, local utilities and government as well as the academy and civil society, and citizens must understand what is at stake. In addition, many social and environmental justice issues exist around transportation emissions and access to public transit, and groups representing these concerns must also be at the table. This raises the question: what strategy and approach should we take to speed up electrification of transport in New York City?
Event Outcomes:
The event Electrifying New York City Transport: The Way Forward featured the core New York City team leading efforts to move forward with electrification:
Michael Replogle, Deputy Commissioner for Policy, New York City Department of Transportation 
Jen Roberton, Transportation Policy Advisor, NYC Mayor's Office of Sustainability and
Mark Simon, Director of Electric Vehicle Policy New York City Department of Transportation
Participants were pleased to discover that the city is near completion of a roadmap forward. The city is already investing in pilot fast-charging stations across the five boroughs and is experimenting with well-designed slower curbside charging stations, along with the idea of retrofitting existing street furniture like light poles to also serve as charging stations. 
Unlike less dense cities where more people can charge cars inside garages, New York has a lot of on street parking which means that charging must happen on the street for shared or personal vehicles. This presents challenges as people are often hostile to what they perceive as anything that interferes with parking. Others who are strong advocates for radically reducing car use also worry that charging stations will encourage the idea that as long as a vehicle is electric, it is ok. Thus, the city has a difficult balancing act to do to kick start electric vehicle infrastructure while continuing to encourage reduced car use, as well as deal with environmental justice issues. From this perspective, freight, school buses, and MTA buses are very critical to electrify. The city is currently piloting electrification of school buses. The MTA has two pilot routes using electric buses. 
Renae Reynolds of ElectrifyNY and the New York Environmental Justice Alliance, however, wants to see bus electrification prioritized in communities that rely on bus service and have serious air pollution problems. Electrification of buses can also help reduce the emissions from bus depots disproportionately located in poor neighborhoods. Similarly, a strategy for reducing emissions for freight, including electrification, is critical for neighborhoods like Hunts Point where trucks come to deliver the food that gets distributed throughout the city. As a result, the South Bronx neighborhood has some of the highest rates of asthma in the country. Also, given that many of New York's peaker power plants line the East River (plants that come into operation when there is high demand), a concern exists that increased electricity demand linked to electric vehicles could lead to increased pollution in poor neighborhoods near these plants and hence increase exposure to pollution. 
Overall, it is clear from this important conversation that when building a strategy for transport electrification necessary to combat climate change and pollution, we need to have everyone around the table -- especially those from neighborhoods that are currently suffering the most from unhealthy vehicle emissions. This might also help lead to the kind of cooperation and coalitions that will propel us forward on this important policy issue.