Mental Health and COVID-19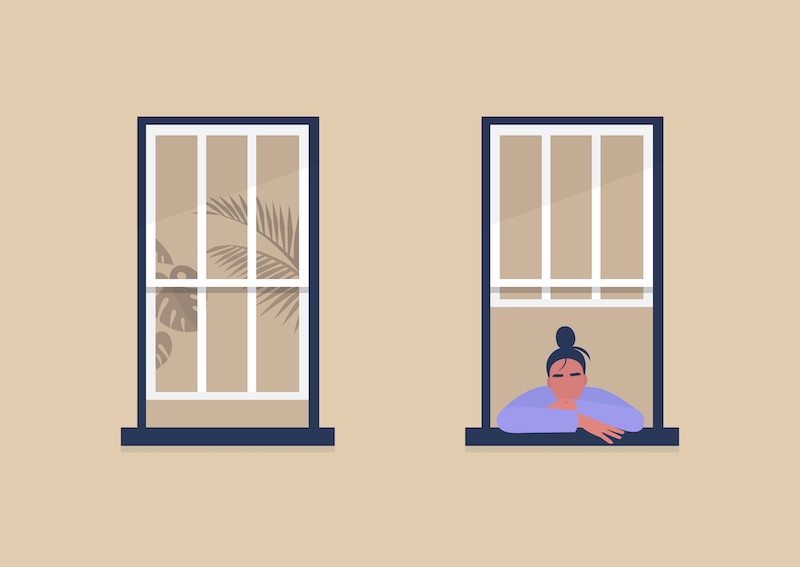 Students and working people across the world are facing a continued reality of online classes and meetings, remote work, and physical distancing. Following a summer of isolation and reduced employment and volunteer opportunities, many undergraduate students, including those at Columbia, are preparing for a virtual fall semester. Likewise, K-12 districts and private schools around the country have decided to start the school year online, and children attending school in person will be required to limit social interaction and playtime with their classmates. On the other side of the spectrum, older adults are also experiencing isolation from friends and family, as the risk of contracting a deadly case of the virus has cancelled travel and leisure activities and visits from the grandkids. These major changes to our daily social lives, and in societies as a whole, beg the question of how COVID-19 has impacted feelings of loneliness.
Associate Professor of Sociomedical Sciences Kavita Sivaramakrishnan, who also co-leads the Global Histories of Science Research Cluster and serves on the Center for Science and Society Steering Committee, sat down with our work-study student Ariana Novo to talk about her ongoing research at the Robert N. Butler Columbia Aging Center. An expert on aging and global health, Sivaramakrishnan has joined with colleagues from 18 universities to create the Survey on Coping with Loneliness, Isolation, and COVID-19, led by Professor Roger O' Sullivan at the Institute of Public Health based in Belfast. By utilizing an open and anonymous survey, the researchers can track how people from different countries have responded to the pandemic and understand its emotional, social, and health impact on individuals, families, communities, policies, and services. COVID-19 has inspired a growing concern among researchers who study loneliness and social isolation, especially for the most vulnerable in our societies
Sivaramakrishnan is also involved in a research project on COVID-19 and loneliness with the Leyden Academy on Vitality and Ageing in the Netherlands. This is a comparative project with the Global Alliance Members of the International Longevity Centers and led by Tineke Abma, Executive Director at the Leyden Academy. The researchers were inspired to begin the survey after hearing from communities of seniors, who were already experiencing the effects of systemic inequalities and discrimination in accessing health services, and feel that the virus has led to a range of policies in which they have not been consulted.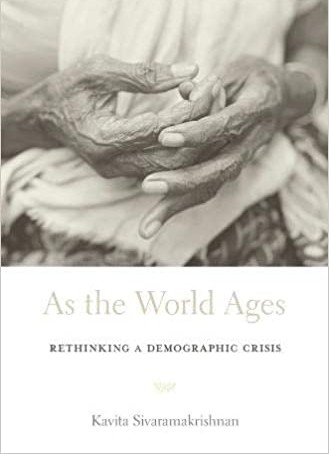 Sivaramakrishnan became interested in the topic of loneliness while working on her recent book, As the World Ages: Rethinking a Demographic Crisis. As her work on the book came to an end, she felt like there was something amiss. "I was interested in how experts defined aging and its politics as aging populations became the subject of interest or were marginalized; [and] as globalization and development deepened and families, communities, and social networks came under pressure. Loneliness was invisible, missing in all of that literature—especially in the global South—seen often as 'privilege' of those who had leisure and resources. Though it is evident that migration, health crises, and urbanization act together to create deep-seated isolation across society. Even today, [loneliness] is viewed by some as a mental health problem to be fixed through biomedical interventions or therapies; while it is far more structural, nuanced and complex…and historians love complexity, as you know!"
Loneliness can be a difficult experience to qualify. "It's not a unitary construct and varies based on context. Therefore, it is often elusive to define with distinct aspects of social exclusion and isolation and no universal solution," says Sivaramakrishnan. While loneliness is generally defined as an emotional or mental health issue with symptoms similar to those of depression, anxiety, and antisocial behavior,1 the emotional stress can lead to physical manifestations such as hypertension, and cardiovascular disease.2 Research on loneliness and efforts to mitigate it are still not well developed, and there are deep divisions among experts whether access to social media can help reduce loneliness or if its popularity has led to new forms of disconnectedness and isolation.3 Meanwhile, seeking care for mental health concerns has had a persistent stigma in many communities and societies, making it difficult to prioritize as a global health issue. Furthermore, loneliness is experienced more often among marginalized groups including older persons, those in poverty, those with other physical and mental health issues, communities of color, and immigrants communities, which often already have less access to care. 
In many countries, the COVID-19 epidemic led quickly to broad governmental edicts to enforce social distancing, including quarantines and sheltering in place orders. With changes in behavior on such a large scale, healthcare providers, social workers, mental health professionals, educators, parents, and policy-makers began to raise the alarm about the lasting effects of social isolation. While this concern may have seemed new to some, there have been a few organized efforts to address loneliness in recent years Last year Vivek Murthy, a former surgeon general of the United States, called loneliness an epidemic, likening its impact on health to obesity or smoking 15 cigarettes per day. In 2018, British Prime Minister Theresa May appointed a minister for loneliness. "There is a false belief that this is not also a problem of 'rich' societies. But, the need for family support may actually be greater in societies without a strong, universalistic welfare state stepping in, and when family members experience stress, and are unable to visit or connect, the emotional pain and loss is severe, even if there was very little reporting of it [pre-pandemic]." 
Take the example of new immigrants. Their rates of poverty and social isolation tend to be higher in their new country, while working to acclimate to the sudden shift in their home, culture, and language. "Loneliness can have devastating consequences when you're also surrounded by the tensions of migration and feeling in some ways that your ideas and expectations of being a migrant are different from reality," says Sivaramakrishnan. "Your efforts to sustain yourself are now compounded in the time of COVID-19 because of the recession and uncertainties of migrant life and status."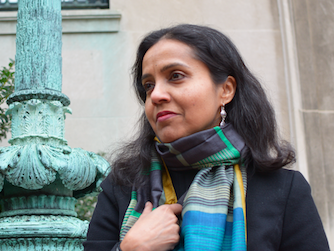 But you don't have to be alone in a new country to feel isolated; in fact, you can be surrounded by family and still experience loneliness. Within newly crowded households both in migrant families, impoverished families, and more recently, families living through the pandemic together, COVID-19 further stresses the latent tensions or fractures between young people and their older relatives. Often, "there is no social distancing, when incomes and spaces are shared and pulled … it puts families under a lot of pressure," says Sivaramakrishnan. Isolation within households isn't just between individual family members, but between generations. Elderly relatives often experience the brunt of isolation within the family. During the economic and public health fallout of COVID-19, the safety and survival of older adults can be seen as secondary to the economy. "Within families, shared facilities lead to prioritizing the working over the so-called 'dependent.' While this [period of] isolation should bring households together, it can actually tear familial bonds as tensions grow, leaving every member of the house feeling disconnected from the outside and from each other. COVID-19 is viewed as a state of emergency with a magic bullet vaccine at the end of it, so there is little thought given to projects to build greater social and 'inter-generational trust,' implying that the loneliness crisis will stay with us far beyond the pandemic (and we are reluctant to face this)," says Dr. Sivaramakrishnan. Efforts to think about loneliness in older adults as a lifecourse issue and not just an 'old people's problem'—and to relate these to relationships between generations and to provide incentives to bridge and build these solidarities—are therefore critically important.
While COVID-19 has exacerbated health and economic disparities, its effects on loneliness appear to be universal (although still disproportionate). Think back to your life before COVID-19: An upcoming event, family engagement, or activity with friends on your calendar provided a concrete date and time to mitigate your loneliness. "But in the midst of COVID-19, the horizon is vague and no one is able to confidently look forward to a time for socialization." With no clear timeline for how the pandemic will progress, people are left with an unsettling ambiguity about the future. However, results from the Survey on Coping with Loneliness, Isolation, and COVID-19 may help us to be better prepared to support those who need help the most.
For now, Sivaramakrishnan stresses that the most effective way of combating loneliness is by establishing or enhancing intergenerational family and community ties. Family meals, conscious displays of appreciation, and empathetic listening are all ways to slowly build that bond. COVID-19 can be an opportunity for shared growth. "Society can be brutal with its disparities. Because of that, citizens have the responsibility to reshape their relationships with others and keep in mind the social, biological, historical variants within the universal experience of loneliness. Spending time with your families and checking in with your loved ones is a good place to start. Health crises can be good starting points to build connectedness!"
Anyone over the age of 18 is invited to participate in the survey, which is available in 10 languages and takes about 15 minutes to complete.
---
[1] Beutel, M.E., Klein, E.M., Brähler, E. et al. Loneliness in the general population: prevalence, determinants and relations to mental health. BMC Psychiatry 17, 97 (2017). doi.org/10.1186/s12888-017-1262-x
[2] Xia N, Li H. Loneliness, Social Isolation, and Cardiovascular Health. Antioxid Redox Signal. 2018;28(9):837-851. doi:10.1089/ars.2017.7312
[3] Nowland, Rebecca, et al. "Loneliness and Social Internet Use: Pathways to Reconnection in a Digital World?" Perspectives on Psychological Science, vol. 13, no. 1, Jan. 2018, pp. 70–87, doi:10.1177/1745691617713052.