Seed Grant Spotlight: What Do We Know? Podcast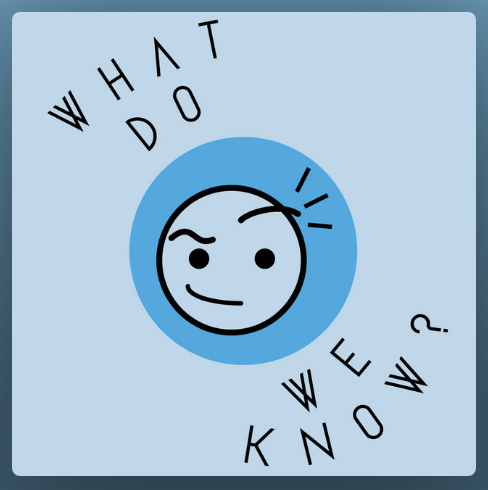 Each year, the Center for Science and Society awards Seed Grants to innovative interdisciplinary projects from students, postdocs, and faculty to support collaborative research and programming. Podcasts have exploded in popularity over the past decade as an easy way to learn or laugh while on the go. During your next (socially distanced) walk, we encourage you to listen to the new podcast, What Do We Know? Columbia student creators Jace Steiner (a senior majoring in astrophysics) and Ben Wolman (a senior majoring in earth and environmental sciences) use unique examples to explore connections and questions across science and society. This project is sponsored by a 2020 CSS Seed Grant focusing on our fifth-year anniversary theme of "Knowledge and Access."
The first episode explored the challenge of responding to "invisible" dangers in our world through stories of radiation, greenhouse gases, and COVID-19. Wolman and Steiner were armed with examples from history about the cost of ignoring invisible dangers including: 
How his own hubris and a lackadaisical handling of potentially dangerous situations led to the death of Manhattan Project scientist Louis Slotin from radiation poisoning in a careless experiment.
How the invisible nature of a dangerous gas leak in Southern California allowed a gas company to underplay the public and environmental health effects.
Each misstep is a potential case study for fighting to "the most immediate, in-our-faces invisible danger of our lives: the [COVID-19] virus." Wolman adds "we hope to highlight the importance of action over reaction," while Steiner stresses the need for "consideration for others for those whose lives are impacted by decisions we make."
With their second episode "Scientific Celebrity: Stories of Representation, Media, and Idolization" soon to be released, we reached out to Steiner and Wolman for more information about their work on the podcast.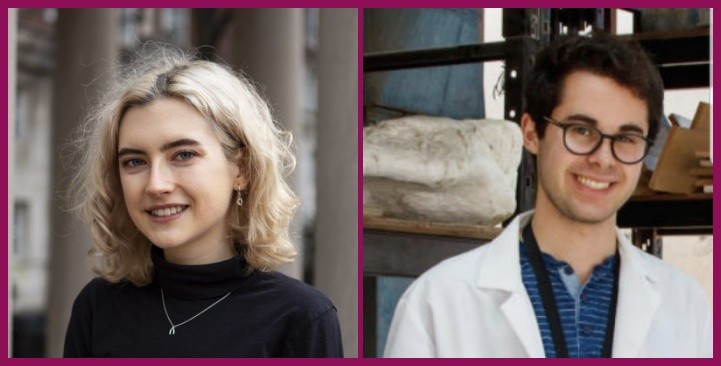 Jace
I've always loved both art and science, so working on a project that integrates science with other topics really interested me! Science is a part of everything we do, and we try to emphasize that fact by discussing our topics in relation to society, especially mass media. My experience with podcasting has been mostly behind the scenes so far, but having the freedom to pursue topics that interest me has been so enriching and I've learned a lot!
Ben
I love listening to stories of all things science/science-adjacent, or just interesting stories, period! Radiolab and Science Friday come to mind. We wanted to challenge ourselves to create our own podcast, learning about and crafting stories from relevant topics—grounded in both humanities and the sciences, contemporary and historical—in the interdisciplinary spirit of Columbia.
We have a master sheet of ideas we add to whenever we are struck by one—whether it's from something we read in the news, saw a hint of in some corner of the internet, or even had been thinking about for years. We often come up with new ideas and ways to branch off of a concept while discussing previous ones. Connecting science and society is sometimes the easy part once we've zoomed in on a main focus for the episode! Everything is intertwined, and there are always so many social aspects/routes of a story we could explore.
Pandemic podcasting definitely required some tinkering at first, but we've found a process that seems to work smoothly. We start out by researching and writing scripts for each section of the episode. We then meet over Zoom to discuss more freely each section in context with each other, making connections between stories, people, and, of course, science and society. We each record and produce our own ends of the unscripted conversation, edit them down, and splice the two together in a coherent way. We record and edit scripted sections separately and send them back and forth for feedback. Rinse and repeat the last step a few times, and, finally, one of us adds all the parts together and uploads the episode!
Jace
Keeping the time period of the section topic, setting, and copyright laws in mind, we add sounds to add ambience and mood.
Ben
I think the most fun part for me is the creativity possible on the production side of things, adding particular sounds and music to set the tone and produce a more immersive story for the listeners. We try to include music appropriate to the space/time of the subject being discussed. It turns into a sort of scavenger hunt searching for the "right" effect or song that we had in mind while writing the original script.
Jace
My hope is that people think more critically about how science is related to their everyday lives and how they, too, shape science.
Ben
I hope that listeners learn about the socially pertinent, accessible side of science, or are at least entertained by what we hope are interesting stories! Along the lines of the Center for Science and Society's mission statement, we hope that What Do We Know? inspires curiosity and cross-disciplinary thinking, enhancing public understanding of science in relation to pressing social concerns.
Subscribe to What Do We Know? on Spotify to get updates on the latest episodes.
Applications for 2021 Seed Grants are open until December 15! All Columbia and Barnard students, postdocs, and junior faculty are welcome to apply. 
Interested in helping us support these exciting interdisciplinary projects? Donations to the Center for Science and Society through the end of 2020 will go towards supporting Seed Grants for students. Give today.