Combining Food, Neuroscience, and Community
What effect does food have on our brains? From home-cooked meals to tasting menus to frozen pizza, what we put in our bodies can trigger old memories, alter our moods, change our productivity, and much more. Postdoctoral research scientist Melissa Lee and programs associate Lisa Dinh were both working at Columbia University's Mortimer B. Zuckerman Mind Brain Behavior Institute in Manhattanville when they came up with the concept for an event on the intersection of food and neuroscience. Supported by a public outreach grant from the Center for Science and Society, Lee and Dinh developed BrainFood, a community outreach project that provided free meal kits to local residents and hosted an online conversation on the science behind eating on August 19, 2021. Joined by award-winning chef JJ Johnson, who founded the community-driven restaurant FIELDTRIP in Harlem, the online event included a live cooking demonstration by Chef JJ of the brain-boosting meal kit ingredients: avocado black fried rice.

Though Lee and Dinh had been ruminating on this idea for a while, the COVID-19 pandemic added a new dimension and urgency to the program. "Just noting some of the social injustices that were particularly prevalent in Harlem, we thought it'd be a great opportunity to give back to the community and spotlight some of the organizations that have been doing incredible work in Harlem to make meals and food accessible," said Dinh. They partnered with three local organizations (Harlem Grown Community Fridge, Mandala Cafe, and Riverside Church) to prepare more than 50 free meal kits available for pick-up in West and Central Harlem, while Riverside Church hosted a COVID-compliant in-person screening of the event.
Given the event's focus on the local community, Dinh and Lee turned to Harlem-based Chef JJ for the cooking demonstration. Dinh and Lee were previously familiar with Chef JJ through his cookbook, Between Harlem and Heaven, and his appearances on the TV show Just Eats and several media outlets including The New York Times and Forbes. Harlem has been at the heart of Chef JJ's work. He's passionate about Harlem food history, his neighborhood restaurants are staffed by locals, and his focus on food justice has only been heightened by the pandemic. "[Chef JJ] also talks about food in a way that just happened to align really well with the things that we were interested in talking about with neuroscience, like food and memory," said Lee. "He just quickly rose to the top as a really ideal partner." Dinh reached out to Chef JJ via social media, and he quickly agreed to participate.
Held as a webinar and live-streamed on Facebook, the speakers shared some of their experiences with food and how these connect to their respective cultural communities, and Lee worked to connect this to the neuroscience of emotions and memory to support the discussion. "We wanted to be talking about the facts of neuroscience and food but also just the general theme of using food as an avenue to talk about science as a process," noted Lee. Dinh added: "We were hoping to make this somewhat exclusive knowledge accessible and relatable, and food is such a great way to bring people together." Even without a background in neuroscience, viewers would be able to understand the culinary links to their own cultural, family, and community traditions, how history through food is passed down between generations, and the experience of attaching a certain food to a memory in their lives. 
Rather than attempt to build a local audience from scratch, Lee and Dinh sought out nearby food pantries and community service groups to work through their established relationships. In reflecting on her experience coordinating BrainFood, Lee described, "I came into this thinking it was a food and neuroscience event and therefore we had a food expert and a neuroscience expert at our virtual event, but in planning and organizing it, … we really leaned on these community partnerships and this community expertise." Harlem Grown Community Fridge, an organization which manages local youth programs and urban farms, and Mandala Cafe, a nonprofit focused on issues of food and employment, coordinated and distributed meal kits before the event. Riverside Church, an interdenominational church which often hosts community events and resources, offered space to accommodate audience members in person. The community partners played a critical role in ensuring the program's ability to reach people in the neighborhood.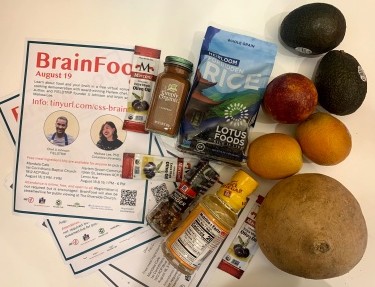 Although Dinh now resides in the Bay Area, she thoroughly enjoyed working with Lee and Johnson on this event and lightheartedly replied, "never say never," when discussing future programming for BrainFood. Lee also speculated on what future events might look like, including involving more voices from community members. "I wish that was something we had recognized more from the beginning and we had had some sort of community representative … talking about their views of science and food and Harlem and all of these things and how they interact as an equal partner with us on the virtual stage." 
Lee's ideal of shared expertise was highlighted by Chef JJ during the event itself as he expressed his views on the universality of food no matter your academic, cultural, or geographical background: "Food has always brought people together. It's the best moments of our life, and I'm just happy to be a part of that."