Center Spotlight: Using Science To Help Society
The coronavirus pandemic has had an impact on all aspects of our lives, transforming how we work, socialize, communicate, and function as a society. In higher education, universities have had to devise new ways of incorporating the skills and expertise of researchers whose projects have been deferred or have changed direction to focus on the novel coronavirus. 
On the frontlines in New York City, Columbia University has created multiple resources utilizing many branches of science to help society, both locally and across the world. From coordinating new research projects and connecting scientist volunteers to these opportunities through Columbia Researchers Against COVID-19 (CRAC) to transmitting information for public understanding during the crisis with the Zuckerman Institute's new podcast, "Lab in the Time of Coronavirus," the Columbia community has worked to mobilize scientists to combat the pandemic from different fronts. 
The Center for Science and Society spoke with two researchers who have shifted their work in the past month in order to help those in need. Ana Pessoa Pinharanda is a postdoctoral scientist in the Department of Biological Sciences studying the evolution of different genes in fruit flies. She took on the role of Project Manager of the Mask Reutilization Project. Noam Zerubavel is a postdoctoral Presidential Scholar in Society and Neuroscience who studies how the brain encodes and responds to social networks. He has been volunteering at NewYork-Presbyterian Hospital.
You can also learn more about Noam and the rest of our postdoctoral scholars through our CSS Spotlight series on Instagram.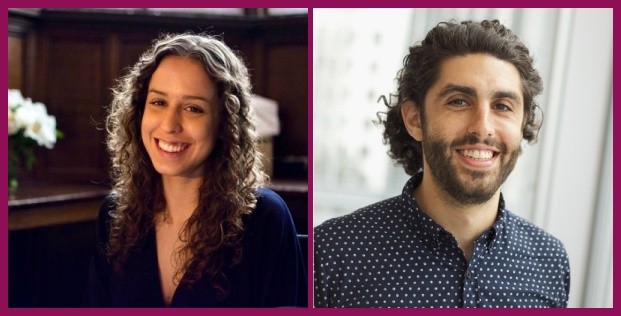 "I believe the scientific community needs to stand up for the quality of information, and I was very excited to take a small role in this goal."
Interview with Dr. Ana Pessoa Pinharanda
At the end of March, I realized that some institutions in New York were gathering volunteers to help deal with the surging SARS-CoV-2 pandemic. After some emails back and forth with the Chair of the Department of Biological Sciences, Professor Harmen Bussemaker, we found that Alvaro Cuesta-Domínguez was preparing to launch Columbia Researchers Against COVID-19 (CRAC) in response to the COVID-19 pandemic. As soon as the first email requesting the assistance of postdocs landed in my inbox, I applied.
While the Mask Reutilization Project was originally developed to provide on-site assistance to the NewYork-Presbyterian Hospital and the Columbia University Irving Medical Center, we have recently broadened its scope.
With the reentry to public life on the horizon, it is vital for everyone to know the best practices of protecting oneself and others from viral infection. Evidence shows that heating N95 respirators decontaminates them while still preserving fit and filtration efficacy. However, there is a lack of detailed, easy to interpret, accurate information on best practices for wearing and cleaning a mask to prevent the spread of COVID-19. This is true for both N95 respirators and surgical or cloth masks. 
This project is being developed in collaboration with the Columbia COVID Tech Innovation Group with Professor Elizabeth Hillman as our faculty advisor.
In a nutshell, we aim to widely disseminate a sound, validated "at-home" mask decontamination protocol, alongside with guidelines on how to use and make PPE. We hope that by widely releasing this information we might be making a small contribution to halting the spread of the virus.
I am a postdoctoral research scientist in the Andolfatto Lab, working on an NIH-funded research project that studies the genes underlying morphological evolution in fruit flies. I use computational and experimental approaches to learn about the evolutionary processes shaping genome evolution. One of the questions I am trying to answer is how new structures arise during the evolution of increasing animal complexity. By studying the genetic variation within and between species, we gain insight into the rules governing evolution. Of particular interest to me are the factors that limit the rate of adaptive evolutionary change and the extent to which the genetic basis of diversity is predictable.
As researchers, we are trained to act based on evidence. The first step in any research project is to survey the current knowledge and design experiments based on informed assessments. This is exactly the approach we are taking in this project. While we ultimately aim to disseminate simple PPE best practices and an easy-to-follow protocol to inactivate SARS-CoV-2 from masks, all our experiments and recommendations are, and will be, based on sound scientific advice.
When CRAC was launched, the Mask Reutilization Project was the first project looking for volunteers. From my work in biology research labs, I understand how important appropriate PPE is, and I was eager to help. It is also clear to me that, even though there is a lot of scientifically accurate information disseminated during this pandemic, there is also a lot of misinformation and, sometimes, it can be difficult to tell what is correct. I believe the scientific community needs to stand up for the quality of information and I was very excited to take a small role in this goal.
There are three commonly used ways to inactivate the virus: UV-C light, peroxide vapor (HPV), and dry (or slightly humid) heat. While UV-C and HPV have the added advantage of decontaminating masks, both have serious drawbacks if we are thinking of a method that can be widely used by the public. UV-C needs to penetrate the mask fabric completely and each part of the mask surface needs to be exposed to it for the method to work to a satisfactory degree. The HPV method needs professional technicians to operate it as the gases are toxic. Heat is the only method to provide a certain level of safe decontamination for people without access to sufficient masks, or institutional services for mask cleaning.
For the "at-home" mask decontamination protocol, we are performing a comprehensive review of established literature as well as recent best-practice reports to inform rigorous validation experiments of the methods which will be done in collaboration with Columbia's Environmental Health and Safety.
For the PPE user guidelines, we are generating clear and easy to follow guidelines based on scientific evidence for the general public on how to wear masks, as well as the do's and don'ts of bandanas or other cloth versions.
Both project findings will be published/publicized by the outreach and communication team. We currently have a four-person team directly working on these projects: Tiffany Chen, Jaeseung Hahn, Keiko Yasuma, and myself, but we will be expanding soon.
We plan to disseminate this information as widely as possible to a variety of relevant audiences worldwide, including leaflets, social media posts, and videos. This will be done with the help of CRAC's social media team led by Chiara Bertipaglia and our chief project manager, Natalie Steinemann.
"Now that all of us have gone through the experience of being quarantined ourselves, I hope we will show more empathy to those who lived in isolation before the virus and will continue to live in isolation long after the quarantine."
Interview with Dr. Noam Zerubavel
As a quarantined New Yorker, living in a sheltered bubble while all around me a pandemic was wreaking havoc, I experienced such an unsettling dissonance. After a couple weeks of self-isolating, as more and more New Yorkers became infected with COVID-19 and required medical care, this dissonance motivated me to stop feeling helpless and start helping. I signed up for a number of volunteering projects, including tutoring and food delivery, but none of them materialized. When another Presidential Scholar, Matthew Sachs, told me he had signed up for CRAC, he inspired me to also sign up and help in any way I could.
I have now volunteered for two projects. My first experience was working in the Supply Chain Department [at NewYork-Presbyterian Hospital], collecting medical supplies and delivering them throughout the hospital. Massive quantities of medical supplies are delivered to the hospital's supply chain warehouse every day, and my job was to collect, organize, and deliver items requested by medical staff situated in different parts of the hospital. In order to avoid exposure to COVID-19 patients, we used only tunnels and freight elevators for the deliveries. You hear how thousands of people become infected and require hospitalization in New York City, and it is hard to put into perspective such unimaginable numbers of human lives. Even though I had no interactions with patients through this project, the sheer number of supplies I collected and distributed definitely made me appreciate the scale of the problem.
My second project is more recent and involves working in the laundry room, folding and sorting hundreds of scrubs for the medical staff. In this enormous room filled with scrubs waiting to be folded, sorted, and distributed, you also start to realize just how many doctors and nurses and medical support staff are critically involved in dealing with the pandemic. While you live in your bubble in your apartment, on purpose, it is hard to fully comprehend the scale of the problem. Volunteering at the hospital, getting just this slight glimpse of the global crisis firsthand, has really helped me appreciate the severity.
Of course. You know you are putting yourself at risk, even though I do not interact with patients. However, I know that even just taking my dog for a walk these days slightly increases my risk of exposure to the virus. What made me more apprehensive at the beginning was all the stories I had heard in the media about how bad the situation was in hospitals. I was honestly scared to confront this reality. But there is also something motivating about the number of people and supplies being recruited to deal with the pandemic. Even though you, as one individual, are not actually solving the problem by folding laundry, you understand you are part of something larger, a massive collective effort trying to help solve the problem. That's been a good feeling at a time when reassurance is hard to come by.
I have been so impressed with the medical community. Every day at 7 PM, I join thousands of people in New York City to clap to show my support, but seeing it up close has been an eye-opening experience. This experience has also shown me that there are countless unknown and unrecognized people fighting the pandemic, people whose hard work and dedication we might not properly appreciate because they are hidden from our view. Those workers who unload boxes in the medical supply warehouse, custodians picking up thousands of bed sheets, and countless other staff working hard to ensure that the medical environment is clean and organized. I have been in the same hospital before to do brain scans for my research and I often interacted just with the MRI technicians, not realizing how many people it takes to run a hospital. Getting to be on the other side of that has been enlightening. I will never look at a hospital the same way, appreciating those on the frontlines as well as those whose work goes unnoticed.
Volunteering in CRAC's projects has been a meaningful experience for me. Between the two projects, folding and sorting scrubs is more solitary, but time goes by pretty fast once you get in a zone. And it's gratifying to see just how many piles of scrubs you can sort in a 6-hour shift. Working in the Supply Chain Department has provided more social opportunities for interaction and collaboration with other volunteers and staff, which has been rewarding. Once you start to see familiar faces and form relationships, the work starts to feel more communal.
I would recommend CRAC to other researchers who want to help but don't know where to start. 
The CRAC team is really well-organized and motivated. They respond to my questions quickly, follow through with their projects, and continue to add more projects all the time. It is inspiring to have such a great team leading these volunteering efforts. They are great at coordinating logistics, which is impressive considering how new the initiative is. I feel now I am part of a community of Columbia researchers, which gives us all a shared purpose.
Research shows that people who are socially isolated tend to have worse physical and mental health outcomes. But this research is relative, comparing more isolated people to less isolated people. Now we are in a situation where everyone is isolated, and I think there is something about that shared sense of isolation that has motivated people to connect. While so many of our everyday social connections have been altered, diminished, or vanished, lots of people have been reconnecting in new ways, even with people they have not seen in a long time. This shows just how resilient and adaptive humans can be. Our desire to connect is so strong and this has been revealed in so many different arenas of social life, including friendship, family, and work relations. Now that all of us have gone through the experience of being quarantined ourselves, I hope we will show more empathy to those who lived in isolation before the virus and will continue to live in isolation long after the quarantine.
Through Columbia and other universities' resources like these, we are seeing true heroes appear in the form of science researchers, essential workers, and other volunteers giving their time and risking their lives in order to push our society forward in this crisis. While the University will continue adapting to best address the current situation, we are thankful to those on the frontlines, helping society through science.
We have compiled a list of COVID-19 Science and Society Resources. If you are aware of another resource provided by the University using scientific research to combat the coronavirus pandemic, please contact us at [email protected].