Center Spotlight: A COVID-19 Commencement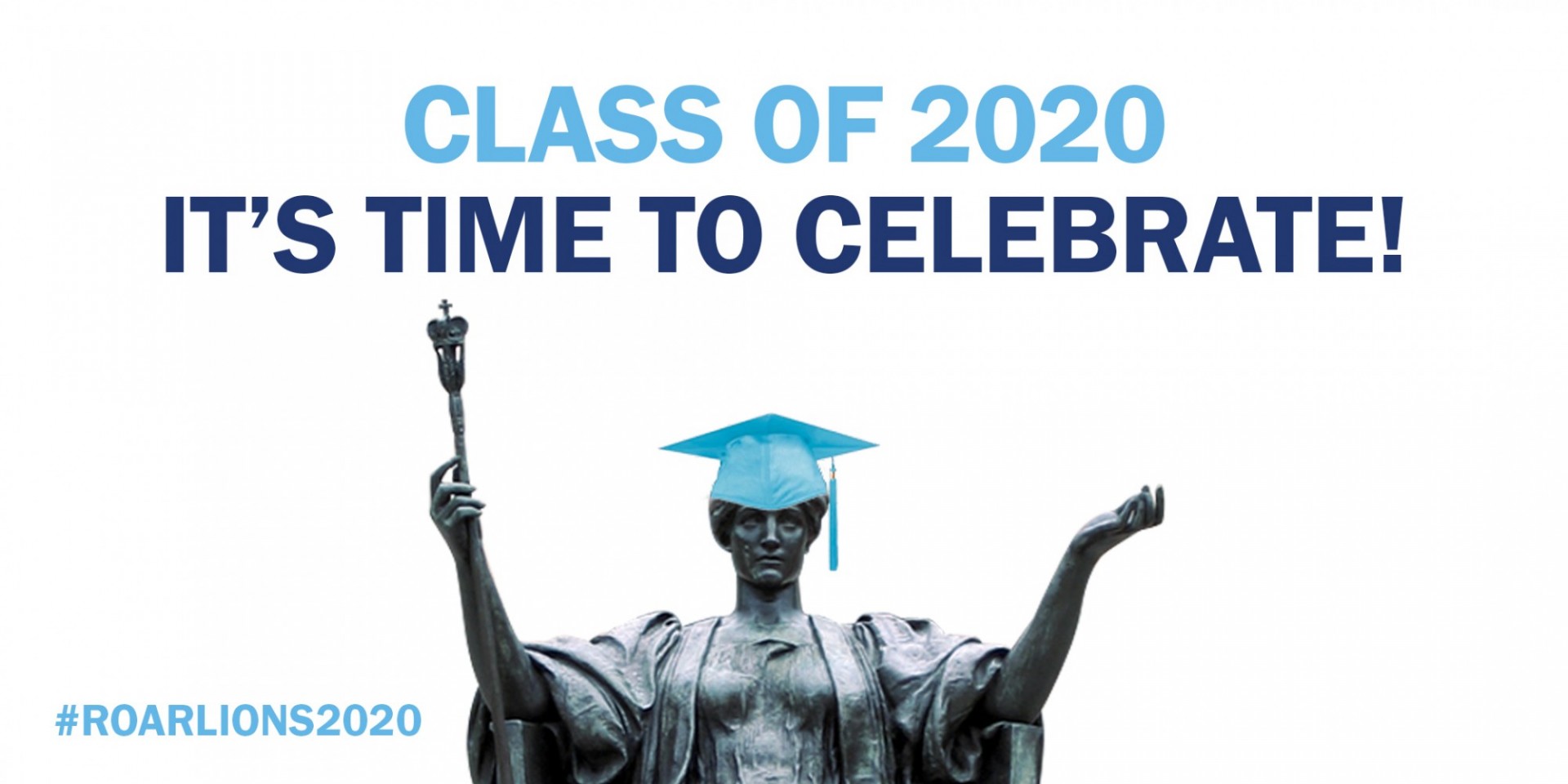 At Columbia, graduation isn't just a day, it's a season. In March, we begin to see students taking graduation photos in their Columbia blue robes. By April, scaffolding is commonplace as the bleachers and stage rise in the center of campus. For the month of May, the campus is transformed. Families, graduates, information tents, receptions, and crowds become part of our daily life. On Commencement Day, we can hear the cheers from Broadway to Amsterdam as each school has their degrees conferred, and a group rendition of "New York, New York" marks the end of the ceremony. This year is different. 
Much has already been said about this unusual semester. Extraordinary events first altered Columbia (then King's College) graduation ceremonies in 1775, when the outbreak of revolutionary war forced the College president to flee. Since 1926, commencement has been held outside on Columbia University's Morningside campus, rain or shine. Today, the graduates from Columbia's 18 schools (along with their families, friends, and pets) will have the unique experience of logging online to participate in the 266th University Commencement. Congratulations to all of the graduates for their achievements and resilience.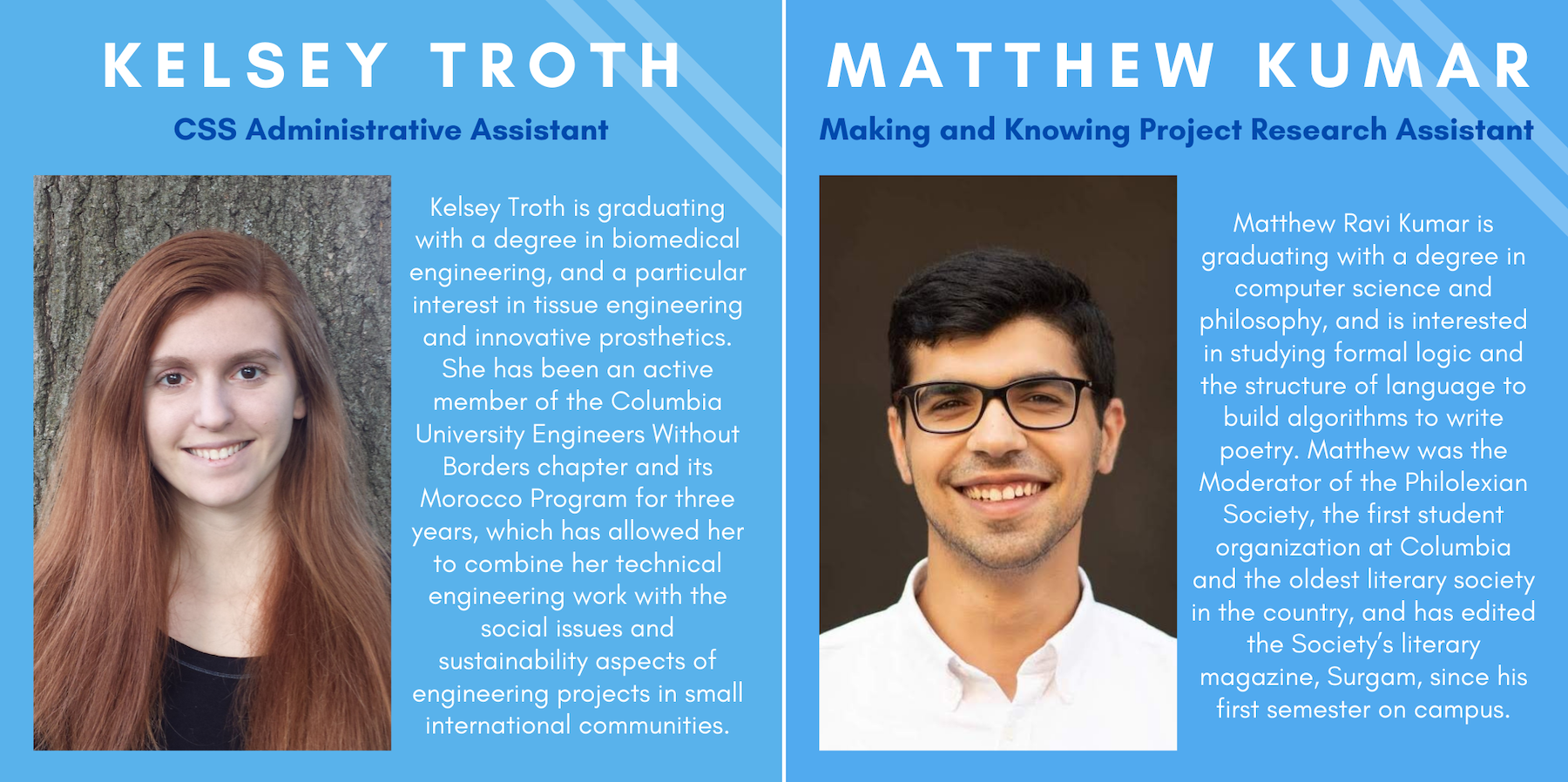 Among the graduates are two members of our own team. We are celebrating the Center's student assistants Kelsey Troth (Biomedical Engineering at the School of Engineering and Applied Science) and Matthew Kumar (Philosophy and Computer Science at Columbia College). If you've seen one of our event posters, read some of our recent news features, or visited the Making and Knowing Project's digital critical edition, you've seen Kelsey and Matthew's handiwork up close. They've each made their mark on our Center, and we are excited and proud to watch them move into their next phase of life. Congratulations, Matthew and Kelsey!
For inspiration, we thought we'd share a few commencement speeches with Science and Society themes:
Science and Society Graduation Speeches:
Columbia Engineering's Class Day 2020 featured an address by Ya-Qin Zhang, founder and Chairman of Blue Entropy LLC. (Address starts at the 15:50 time mark.)
Representative Lauren Underwood (Illinois 14th Congressional District) delivered the graduation address. (Address starts at the 4 minute time mark.)
As part of the IHeartRado podcast Commencement: Speeches for the Class of 2020, Bill and Melinda Gates deliver a graduation address. 
New York University's School of Global Health graduation featured a speech by Raul Perea-Henze, the Deputy Mayor for Health & Human Services for the City of New York. (Address starts at the 33:15 time mark.)
The Friedman School of Nutrition Science and Policy graduation included an address from Sonia Y. Angell, California Department of Public Health Director. (Speech starts at 33:15 time mark.)
As part of the graduation ceremonies for the School for Environment and Sustainability, Missy Stults, Sustainability and Innovation Manager for the City of Ann Arbor, addressed the graduates. (Speech starts at 17:57 minute mark.)