Executive Summary - Weaving: Cognition, Technology, Culture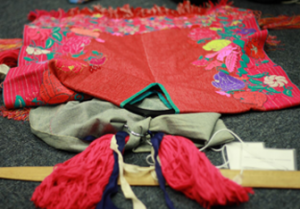 Over the course of five days, the Weaving: Cognition, Technology, Culture conference at Columbia's Center for Science and Society brought together artisans, scientists, scholars and curious visitors to explore the world of weaving. Together, they addressed a wide range of issues relating to the craftsmanship of textiles and the cognitive and historical context of the design and manufacture of cloth. Guests enjoyed lectures and discussion about the art and science of weaving and participated in hands-on demonstrations of loom and textile techniques. The conference presented a unique opportunity to learn from a wide variety of professionals.
Weaving opened with a discussion about the business of handloom fashion in India and Okinawa, conducted by Annapurna Mamidipudi (History of Science, Maastricht University), Amanda Mayer Stinchecum (Harvard and Hosei University), and Dorothy Ko (History, Barnard College). The next two days of Weaving were dedicated to weaving demonstration workshops. Carla Childs invited visitors to hand-weave a small textile and showed a variety of textile samples; she briefly discussed basic weaving vocabulary and techniques. Mrs. Bouakham Phengmixay (Lao Masterweaver, Lao Textiles) and Mrs. Simone Khamdypaphanh (Lao Ikat Master, Lao Textiles), both Laos textile weavers, wove on their handloom while guests observed. The workshops and learning demonstrations were a lively way of showing the art and science of crafting vibrant textiles.
Pamela H. Smith, the director of the Center for Science and Society, opened the conference portion of Weaving by exploring "Why Weaving and Cognition?" She discussed the relationship between handwork and mindwork, and the impact of a modern economy on skilled artisans. In today's world, how can this "timeless tradition" evolve while maintaining its artistic integrity? Daphna Shohamy (Psychology, Columbia University) expanded on the "mindwork" aspect in her lecture about changing cognitive habits and skills due to aging. Shohamy talked about semantic dementia and how we might relate craft to cognition. She noted that there are few studies specifically relating creative skills to cognition—a scholarship field full of potential. Wrapping up the morning session, Roger Kneebone (Surgical Education and Engagement Science, Imperial College London) and Izzy Dabiri (Freelance Costume Tailor) discussed how needle and thread factor into their different career paths. Kneebone elaborated on the history of thread in surgery, and how much of the skills learned are "embodied knowledge," or knowledge that is difficult to put into words. Dabiri, a costume tailor, offered similar insights about embodied knowledge. She described that in her tailoring, being actively aware of how each step of a task is completed might impede the natural flow of repetitive stitching. However, she was intrigued by the elements of cognition that are clearly present in her craft. Carol Cassidy (Lao Textiles) and weavers from Laos Textiles opened the afternoon session by describing new techniques that relate computer coding and mobile applications to weaving. Concluding the first day of the conference, Patricia Greenfield (Psychology, UCLA) discussed learning to weave in a Maya community. Greenfield studied three generations of Mayan weavers and observed massive changes in technique that were fueled by social, economic, and educational changes from 1970 to the present. Younger generations of female weavers lost kneeling skills that were integral to old ways of weaving, as they were used to sitting in chairs for prolonged periods due to better education access.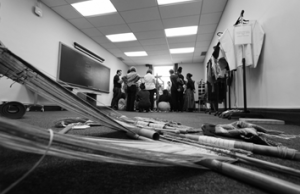 On the final day of the conference, Annapurna Mamidipudi returned to talk about weaving as a sociotechnical system. She proposed that innovation is the most difficult challenge for modern weavers. Weaving is a millennia-old art, but the handwork of weaving does not need be replaced by mechanization—a weaver can integrate new technologies while preserving craftsmanship. In her keynote lecture, handloom activist Uzramma (Independent Scholar, Goldsmith, and Handloom activist) discussed "The Indian Loom, Climate Change, and Democracy." She explored how modernity might manifest in communities of Indian weavers. An industrial revolution might be one way, but she expressed hope that weavers could keep their artistic integrity and adapt to the modern economy. Sustainability of materials and processes use to make textile is a concern that weavers must keep in mind. Barbara Faedda (Associate Director, Italian Academy at Columbia University) gave visitors a glimpse into the world of high fashion and how creativity and cognition go hand in hand in the industry. A discussion followed on how priorities in the industry have shifted from individual expression of clothes to a uniform, mass-produced ideal. Clare King (President and Owner, Propel LLC) wrapped up Weaving with a conversation about modern textile businesses; her company provides textile technology for the U.S. military and fire services. She discussed maintaining the integrity and quality of textile work while confronting issues of the modern marketplace.
Weaving: Cognition, Technology, Culture allowed for innovative collaboration between professionals in the arts and sciences. The practice of weaving served as rich ground to explore artistic, scientific and technical challenges of past and present weavers. The conference showed that the arts and science enhance—rather than oppose—each other.