Drinking While Pregnant: The Science and Stigma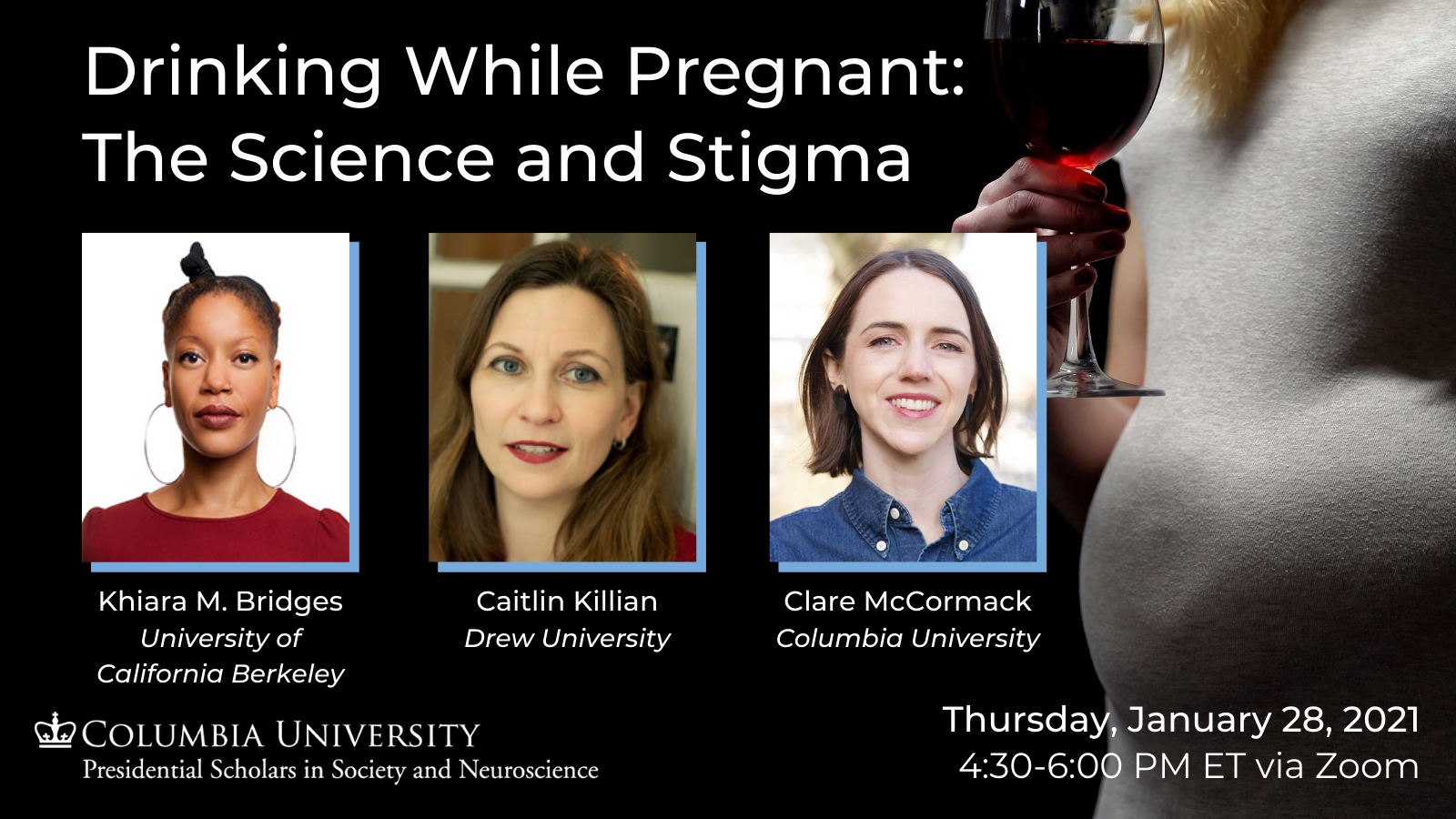 For decades, public health messaging has conveyed the notion that alcohol use during pregnancy is harmful for the fetus. While this information may appear straightforward and unbiased, the evidence behind this global message is less clear-cut. In practice, these guidelines and their undertones have resulted in a culture of blame and stigma rather than support and care, particularly for marginalized groups facing additional inequities.
On January 28th, join Presidential Scholar in Society and Neuroscience Clare McCormack along with Khiara M. Bridges, Professor of Law at University of California, Berkeley and Caitlin Killian, Professor of Sociology at Drew University, for Drinking While Pregnant: The Science, and Stigma. Earlier this month, we spoke with McCormack and Killian to learn more about their research and the history of the public health and social messaging around this issue.
The term "fetal alcohol syndrome" (FAS) first appeared in the 1970s after some small case studies of children born to mothers who were alcoholics, and guidelines advising against drinking during pregnancy were swiftly put in place. In the U.S., the Surgeon General issued a warning against pregnant women drinking in 1981. But in the decades since, many large studies have shown this association is far from straightforward. Despite this, the warning from the Surgeon General is basically the same as it was in 1981 recommending no alcohol during pregnancy at all even though there is no actual evidence that an occasional drink during pregnancy has any harmful effects.
It is important to consider factors like the environment and parents' mental health when trying to understand associations between prenatal alcohol exposure and child outcomes – it may not be as simple as "cause and effect". There are dramatic differences between the children of poor alcoholic women and wealthier alcoholic women in terms of FAS diagnosis, even when controlling for the same amount of alcohol exposure. One study found that only 4.5% of the latter's children had FAS, compared to 71% of the poor alcoholic women's children. This should lead researchers to question the role of other variables and interaction effects such as nutrition, stress, patterns of alcohol consumption, etc.
Women who drink alcohol during pregnancy tend to be wealthier and better educated, yet children's developmental problems related to alcohol use seem to be concentrated in groups facing adversities. A laser focus on pregnant women's use of alcohol may overlook related problems, all of which affect the future child. Early media coverage of FAS showed white mothers in a sympathetic light, but quickly switched to portraying women of color as irresponsible and callous to their offspring's well-being. In the U.S. and Canada, Native American women have been particularly scrutinized. In general, society expects women to prove that they are good mothers, and women who drink in public find themselves castigated.
The challenge for public health is to balance accurate communication of risk while being attentive to the needs of women, particularly mental health. Public health should be evidence based rather than relying on popular opinion, and ultimately, women should be given accurate information and then encouraged to make the decisions with which they are comfortable without being shamed or feeling as if they need to lie about their behavior to their medical care providers.
This event is an opportunity for scientists and scholars to come together and discuss the important role of social-economic context in the alcohol-child outcomes story as well as examine how difficult it can be to make science value-neutral.